About Lee von Erck, Doctor of Pipes
Lee has been many things in his lifetime. After a stint in the Army, he was
a ski instructor and an ice hockey coach. Then he owned a kennel. He bred dogs and competed at shows with his own and other breeders' dogs. Lee was one of the trainers trotting around the show floor with a canine contestant. Lee has always been a pipe smoker since he reached adulthood. So, he naturally turned to repairing and making pipes, which has become his true passion. He works in his shop in Negaunee Township on the Upper Peninsula of Michigan. It's a wooded area near Lake Superior and where Lee has lived most of his life.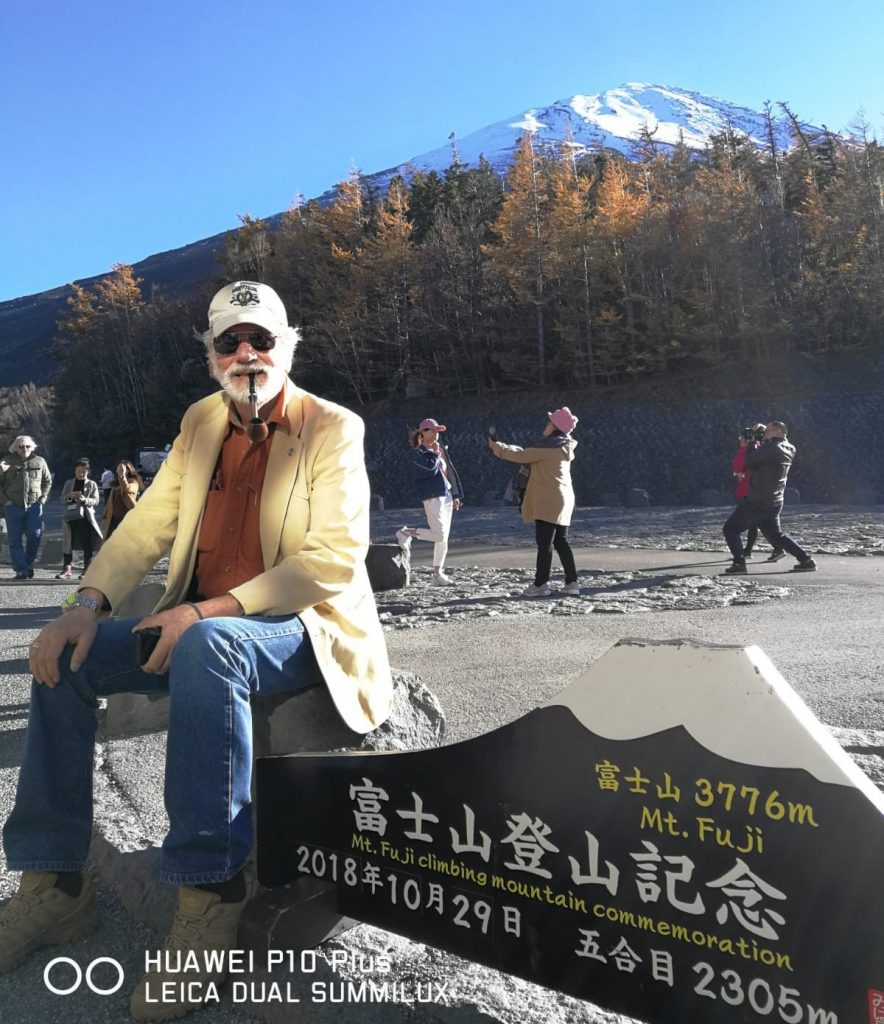 Decades ago, Lee developed a secret oil curing method to remove the
tannins and other impurities from the briar. That makes his pipes sweet smoking right from the first bowl. He started selling his pipes in the Midwest at pipe shows and through retailers. Then he expanded throughout North America. For many years now, he also been attending shows and supplying retailers in Asia and Europe, where he usually sells out at shows and comes home with several special orders to fulfill. Lee has sold his pipes in Denmark, Italy, Russia, Hong Kong, Singapore, Japan, and points in between. Whether smooth, sandblasted, or partially rusticated, von Erck pipes are unique and eye-catching. Lee uses the finest plateau briar and stem material. His goal is to let the grain and the birdseye show him how to shape a pipe out of a briar block. That lets him bring out the true beauty of the wood. But being pretty isn't everything. Most importantly, von Erck pipes are well-known for their fine
smoking characteristics.
Lee also teaches others the craft of making pipes. Some students visit his
shop for a few days or more. Others attend the working seminar that he and
others present each year at the Chicago Pipe Show, the biggest show in the
world. The Chicagoland Pipe Collectors Club, which sponsors the Show, awards the honorary title Doctor of Pipes each year to two people who have
distinguished themselves, one in the tobacco trade and one as a hobbyist. To
become a Doctor of Pipes, one must be nominated by a Doctor and elected by all of the Doctors. Lee has deservedly been elected to hold the title Doctor of Pipes. If you want to learn more about Lee, check out the documentary movie Father the Flame, read the article that he co-authored about some of his pipes, and visit Pipedia. You can listen to interviews with Lee on the Pipes Magazine Radio Show, Episode 28 and Episode 269. Examples of his work may be seen by following the link on the Top menu to Pipes and browsing through those on hand and those sold (page currently under construction!). Contact Lee if you see a pipe that is on hand and interests
you.
Happy puffing from a fan and collector of von Erck pipes.
************************************************
HYPERLINKS:
Father the Flame website
Father the Flame Indiegogo campaign
Pipedia
Pipes Magazine Episode 28
Pipes Magazine Episode 269
Pipes Magazine forum search for keyword "Lee von Erck"